DENVER AIRPORT (DEN) INFORMATION
Origin
Airline
Flight no.
Scheduled
Est./Actual
Status
No flight arrivals were found at Denver Airport.
Destination
Airline
Flight no.
Scheduled
Est./Actual
Status
No flight departures were found at Denver Airport.
Car Hire at Denver Airport
UNBEATABLE VALUE CAR RENTAL
Free Amendments | Free Cancellations | No Card Fees




Denver International Airport - All Information on Denver Airport (DEN) Denver Airport
8500 Peña Boulevard, Denver, Colorado 80249-6340, USA
phone 001 303 342 2000
phone001 303 342-4062 (Lost + Found)
emailinfo@flydenver.com
call_end001 303 342 2266 (fax)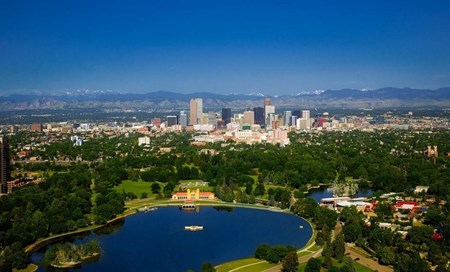 Denver International Airport is situated approximately 23 miles northeast of the downtown. It has the official code of DEN, and consists of one large terminal building and three concourses. The airport's total land size area is 53 square miles and is noted as the largest international airport in the United States. Only King Fahd International is larger, making Denver the second largest airport in the world.
With over 64 million passengers in 2018, Denver is considered to be the world's tenth busiest airport in regards to passenger traffic. On average, 1,670 flights operate from here on a daily basis by more than 30 different airlines. The location is the main hub for the carriers Frontier Airlines and Great Lakes Airlines, which are low-cost carriers. United Airlines use Denver as their second-largest hub.
The airport's main terminal building is named after businessman and aviation pioneer Elrey B. Jeppesen, as the Jeppesen Terminal. The terminal is huge and covers a space of about 1.5 million square feet. Within the main terminal there are three separate security screening areas. Denver Airport has three concourses that are only accessible by the underground subway system. This is besides Concourse A, which is also linked to the Jeppesen Terminal by an enormous passenger bridge, spanning over the taxiways and offering lovely views of the airlines. The roadway leading to the site divides into West and East Terminal parking areas. To facilitate the flow of traffic, it also separates into three different traffic levels. These levels are the Departures Level 6, the Ground Transportation Level 5, and the Arrivals Level 4.
There is a wide range of car rental providers at Denver Airport as well as extensive ground transportation including buses, taxis and rail connections.
A highly distinguishable feature of Denver Airport is it's white-peaked roof that resembles the area's famous Rocky Mountains. It is made out of two translucent layers of Teflon-coated fiberglass fabric, which is resistant to dirt and pollution. The roof is 126 feet above the terminal's main floor when measured at it's highest point.
When FAA Control Tower was built, it was the tallest structure in North America. It has 33 stories and is 327 feet tall. The tower allows for almost completely unobstructed views of the aircraft activity at DIA. It was designed by Leo A Daly and was completed in November 1992.
There are 6 runways at DIA. Four are north-south runways and two are east-west runways. The different positions of the runways facilitate landing regardless of the wind direction. The runways are independently built and do not cross over each other. They are built far enough apart to allow for dual or triple simultaneous landings. The longest runway is the 6th and newest addition (16R/34L). It is 16,000 feet long and 200 feet wide. This runway is designed to accommodate fully loaded jumbo jets, including the Airbus A380.
Denver International was finally completed in February 1995. The airport was originally scheduled to open in October 1993, but suffered many delays caused by poor planning and repeated design changes. Other delays were caused by constantly changing requirements from United Airlines and a millwright strike in 1993. The overall cost of construction ended up being nearly $2 billion over budget. The first flight to depart was United Flight 1062 to Kansas City International , and the first to land was United Flight 1474 from Colorado Springs.
Even though the airport took so long to complete, it has an inarguable amazing design that allows for massive future expansion. All three concourses are built in relation to the taxiways so that they can easily be expanded as necessary. Concourse B is longer than the other two concourses, but can still be expanded. Recent expansion at Concourse B included the addition of a regional jet terminal on the east side. There are now two smaller concourses connected to Concourse B with two bridges. Concourse C will also be expanded with at least eight new gates. Once all of the concourses have been expanded to maximum capacity, there is still space for two more concourses to be built. These will be Concourses D and E. 110 million passengers will be able to pass through Denver Airport each year, once it has been fully built.
DIA's Automated Guideway Transit System can be expanded to accommodate any new areas built within the concourses. In the future, the airport has planned for a rail link to be established from Denver's Union Station. Denver International will definitely impress all departing and arriving passengers. It was even voted as the Best Airport in North America by readers of the Business Travel Magazine.
Arrivals, Departures and Airlines at Denver International Airport
Hotels near Denver International Airport
There are a number of hotels to suit all budgets and requirements at or near Denver International Airport.
Parking at Denver International Airport
See options for parking services at Denver International Airport.
Additional Services and Amenities at Denver International Airport
At Denver International Airport you will find the usual array of bars and restaurants, airport lounges and shops.
Things to do in Denver
There are a number of activities to suit all ages and interests in the region - see a selection of tourist activities in Denver, Colorado in the United States of America.
Services at Denver Airport
Useful Information about Denver Airport